Are you getting maximum value from your Microsoft enterprise licencing? Start working smarter with what you have and get a better return on your investment. 
If you're investing in E3 or E5 licences for Microsoft 365, then you want to be getting maximum value.
Right?
After all, they can be quite an outlay for any organisation.
But, scratch beneath the surface and start using the full range of tools available, and they can really start paying for themselves.
In this article, we explore the ways in which organisations are achieving ROIs of more than 200% over three years.
And why even more see their investment paid back within three months.
Find out how you could start doing the same.
1. Remove redundant apps and reduce your licence costs
Yes, we all like shiny new toys.
And, as organisations adapt to changing work environments and new challenges, we know how easy it can be for your technology stack to creep out of control.
To suddenly find you're managing a smorgasbord of apps and software licences.
Different point solutions, from different vendors, each with their own licence subscriptions.
And all too often unable to play nicely with each other.
It really needn't be this way.
Within Microsoft 365, you'll find a complete toolkit of applications for:
Communication
Collaboration
File sharing
Endpoint management and protection
Email
Data storage
Mobile management
Identity and access management
Encryption and labelling
Take some time to compare what you get from your E3 and E5 licences.
Then you can start utilising what you already have, and get rid of those software licences eating into your budget.
2. Use your Microsoft 365 enterprise licence to improve productivity
Too many apps from too many sources risks slower, inefficient work.
Microsoft 365 lets you work, talk, and collaborate on a single platform, regardless of location or devices used.
Through the integrated power of Microsoft 365 apps, Azure AD single sign-on (SSO), Teams, SharePoint, and OneDrive, you can:
Enable colleagues to work securely together at any time, from any location in the world.
Improve transparency and consistency in communications.
Let teams work simultaneously on documents, while retaining version controls.
Enable secure single sign-on (SSO) for seamless access to more than 3,000 Microsoft and approved third-party apps.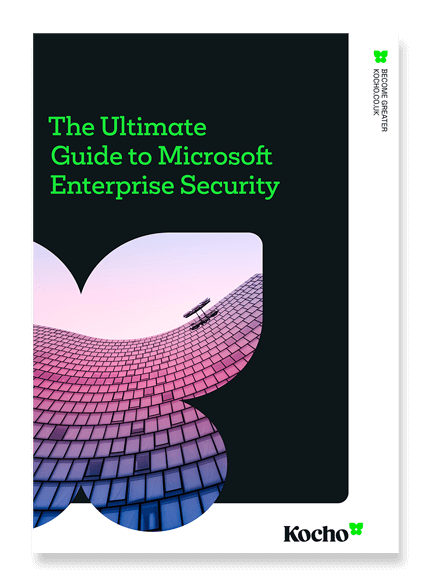 40-page Guide
The ultimate guide to Microsoft Enterprise Security
Microsoft security simplified. Download your 40-page guide today and understand:
How to slash your licensing costs by 60%
Tools to reduce threat response times by 88%
3. Save time and reduce the cost of endpoint configuration
With the transition into remote or hybrid working practices, employees need to swiftly and securely access tools and resources from different locations.
And multiple devices.
The time it takes to set and manage these devices, across an entire estate, can eat heavily into an IT team's time.
But, tap into the resources available across the enterprise licences, and endpoint configuration becomes a whole lot easier.
Thanks to tools such as Microsoft Intune, Azure AD, and Windows Autopilot, new user set-up and configuration times can be reduced significantly.
Giving precious hours back to the IT team.
What's more, multi-factor authentication (MFA) is ingrained into the platform. Working alongside endpoint security from Microsoft Defender, you have the tools you need to enable a full, or partial, bring your own device (BYOD) policy.
Affording you the option to make further cost savings by reducing employee device spend.
4. Reducing the time spent on software deployment and management
The amount of time taken to support the deployment, management, and updating of new software applications can be a huge drain on IT time and resource.
And yet, this can be sped up and simplified by utilising the tools available in the respective licences.
For instance:
Securely manage identity and access with Azure AD, while enabling MFA and SSO.
Simplify configurations with Microsoft Intune's configuration manager.
Evergreen updates from cloud solutions improves security, performance, and productivity.
With deployment time savings averaging 25%, this means more time available for the IT team to be engaged on higher-value items.
5. Cut support tickets and resolution times by 15%
In a traditional IT environment, it's not uncommon for a vast proportion of support tickets to be password resets and updates or changes to software packages.
These low-level items can become a thing of the past thanks to the self-service and automated processes within Microsoft 365.
Single Sign-On (SSO), MFA, and self-service password resets reduces the need for IT team intervention.
Microsoft Intune enables IT teams to quickly identify, process, and resolve tickets.
Automated updates from cloud solutions eliminates the need for manual updates.
6. Reduce risk and save with Microsoft 365 enterprise security
Microsoft are taking security seriously. In 2021, they committed $20 billion to invest in market-leading security solutions. These are ingrained into the Microsoft 365 enterprise plans.
Meaning you have access to tools to keep your business safe, protected, and compliant.
Within your licence you can:
Secure access to data and applications via Azure AD.
Mitigate against password vulnerabilities with MFA.
Enforce zero trust policies to avoid penetration attacks.
Detect, respond and report on attacks via Microsoft Sentinel.
Protect endpoint access through Microsoft Defender.
7. Minimise the chance of non-compliance penalties
Within Microsoft 365, you'll find services such as Microsoft Sentinel, Azure AD, and Microsoft Purview.
Combined, they provide a comprehensive, integrated, and simplified platform.
Ensuring that you stay protected and meet your regulatory obligations.
Believe us, investing in the right licence is a drop in the ocean compared to the costs to reputation and finances you'll incur from a breach.
Within the suite of tools available across Microsoft's enterprise licences, you'll benefit from :
Data protection across your apps, devices, and cloud environments.
Classification and protection of sensitive data wherever it rests or travels.
Prevention of sensitive information falling into the wrong hands.
Real-time analytics and risk identification.
Simplified compliance requirements, record-keeping, and auditing.
Encryption to safeguard data and messaging.
Key takeaways
Whether you hold a Microsoft E3 or the fully-stacked E5 licence, you can unlock savings and efficiencies within your organisation by:
Reducing redundant licences.
Freeing up working hours.
Cutting down support tickets.
Scaling back IT management time.
Simplifying endpoint management.
Improving your security posture.
Helping you meet compliance obligations.
Want to find out how you can optimise your Microsoft 365 licence and start transforming your organisation?
Then it's time to speak to an expert.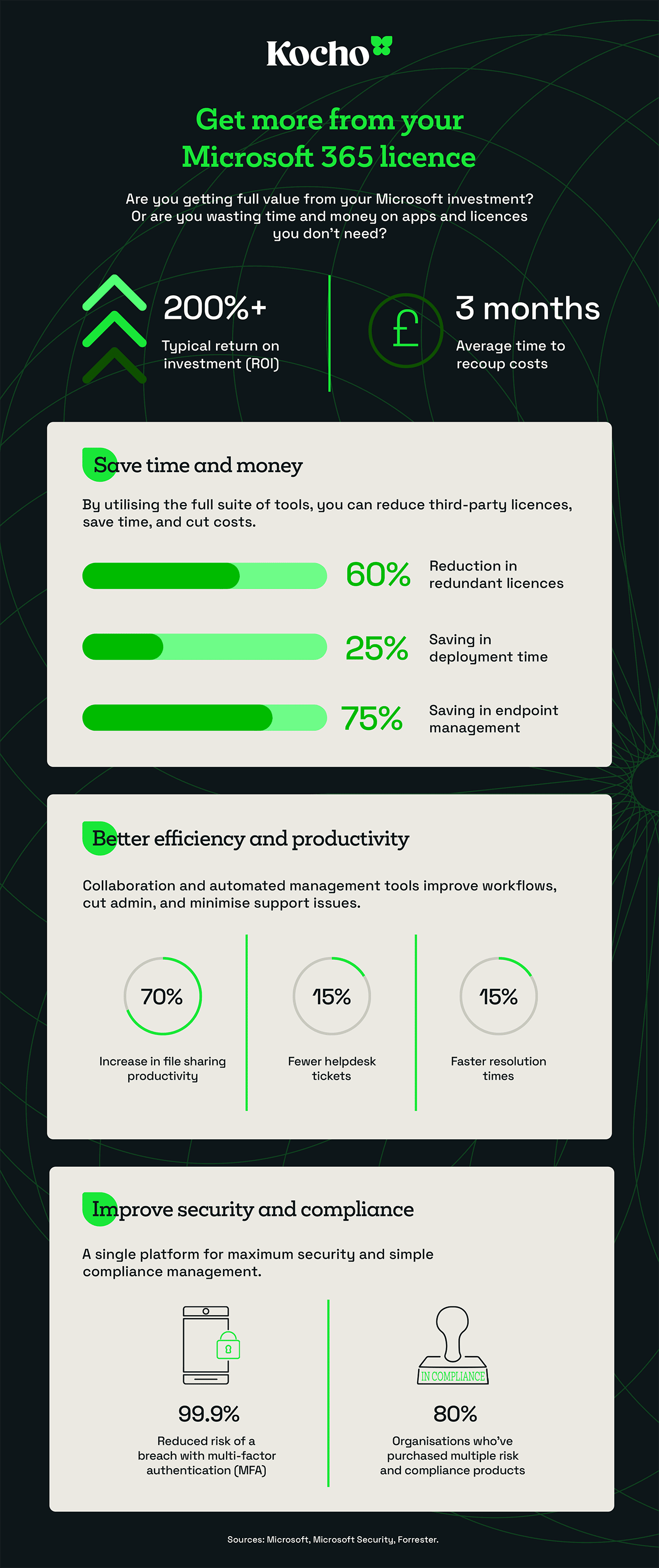 Next steps
Great emails start here
Sign up for great content and exclusive invites
Subscribe to the Kocho mailing list if you want:
Demos of the latest Microsoft tech
Invites to exclusive events and webinars
Resources that make your job easier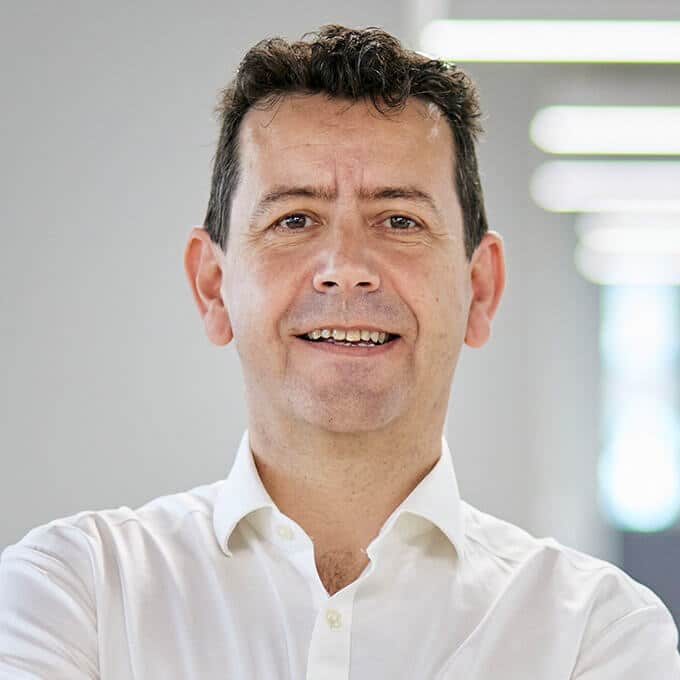 Author
Mathew Richards
Mat is Kocho's Head of Mobility and Security. He leads a team of consultants and architects that live and breathe secure transformation – delivering excellence across Microsoft 365 and Azure.
Got a question? Need more information?
Our expert team can help you.