Improving your organisation's security has never been so important. But doing it effectively can be daunting. Is it time to consider outsourcing your security operations to specialists?
How many times have you read that cyber attacks are growing in volume and sophistication?
Well, guess what – it's true.
For instance, did you know that in 2022:
Phishing attacks increased by 61%1
Users impacted by ransomware almost doubled2
Cloud-technology, remote work, and an increase in mobile devices in the workplace have brought new efficiencies and productivity. But they also widen the attack surface, and render older security measures obsolete.
So, how do you effectively respond to and mitigate against these evolving threats?
In this blog we'll explore the key considerations for establishing a powerful security operations centre (SOC) in your organisation. And, why outsourcing to a specialist security partner might be the answer to your security challenges.
Developing an in-house SOC requires the time, technology, and talent you may not have
The temptation for developing an in-house SOC is that you have full ownership over every aspect of your security. Operations that are entirely tailored around the needs and expectations of your organisation.
Sounds ideal, doesn't it?
But do you have the time, resources, or internal expertise to do this effectively?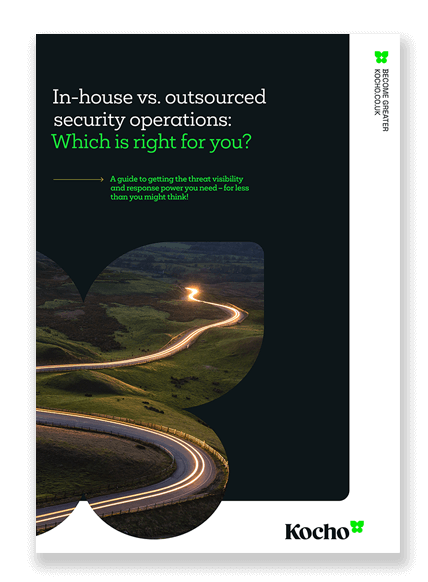 Free e-Guide
In-house vs. outsourced security operations: Which is right for you?
Download your 35-page guide to discover the:
Rea cost of building an in-house SOC
Hidden risks that could catch you out
Huge savings available when outsourcing
So, should you give control of security operations to a third-party?
Security and the protection of your data is critical for any organisation, with breaches liable to bring severe penalties and costs.
It makes perfect sense, therefore, to be very choosy about who you work with. And how much control you want to move outside of the business.
But, be diligent in your research and select a Managed Security Services Provider (MSSP) with rock solid credentials, and the benefit to your business can be significant.
Not only fortifying the company against cyber attack, but helping you control costs, stay compliant, and scale as needed.
Let's break this down.
The importance of flexible, scalable security operations
All businesses change over time. Periods of high activity and growth, followed by quieter, maybe leaner spells.
Which is why it's important for your security operations to have the flexibility to react and adapt to these changes.
For in-house security operations, this can sometimes be an issue.
By their very nature they can be more rigid, with a fixed amount of resources and technology.
As your business scales up, you'll need to invest in more talent and technology resources. Which take can take a while to enact, and may not be planned for in your budget.
And in those leaner times, you can be left with too much resource and potentially redundant capabilities.
When working with the right MSSP, you're invariably investing in a partner who can deliver the flexibility you need.
Your service and allocation of resources will reflect the needs of your business at that time. In other words, you get only what you pay for.
Helping you better control and manage your costs.
But scalability in your security operations is NOT just about cost-control.
Your SOC team will utilise tools such as Security Information and Event Management (SIEM) and Security Orchestration, Automation and Response (SOAR).
Scalable SIEM / SOAR solutions, like Microsoft Sentinel, play a vital role in maintaining a healthy security posture.  Continually working to improve threat intelligence, detection, and response.
Conclusion
Cyber threats are one of the most significant dangers facing organisations today. Attacks are frequent, sophisticated, and inevitable.
If your security operations are not up to scratch, then you leave yourself vulnerable. Opening yourself up to penalties and costs that could cripple your finances and ruin your reputation.
Which is why SOCs play such an important role in an organisations defenses. The hub from which to keep guard, monitor and respond to the threats that come their way.
And, while many organisations have well-established internal operations, there are key challenges to consider when developing a SOC for your business.
Challenges that can often be overcome by outsourcing to a reputable security partner.
With recruitment and training needs getting harder and costlier, and threats evolving at speed, retaining an effective in-house capability is tough, time-consuming, and expensive.
But select the right MSSP to manage your security and you can unlock greater efficiency, better visibility, and improved protection.
A partner that can offer 'on point' expertise and cutting-edge technology. The tools and the talent to keep you safe and compliant, and to scale as you need.
Helping you control your costs, safeguard your business, and free your internal team to focus on projects that drive the business forwards.
Want to learn more? Then get our FREE guide to in-house v outsourced SOC.
Key takeaways
Security operations are vital to your business and need to be robust against changing, frequent threats.

Developing an effective SOC needs time, the right technology, and talent. Do you have all three?

A reputable MSSP can improve security, compliance, and cost control through expert management and cutting-edge tools.

Scalability is vital for greater cost-efficiency as well as improving visibility for a greater security posture.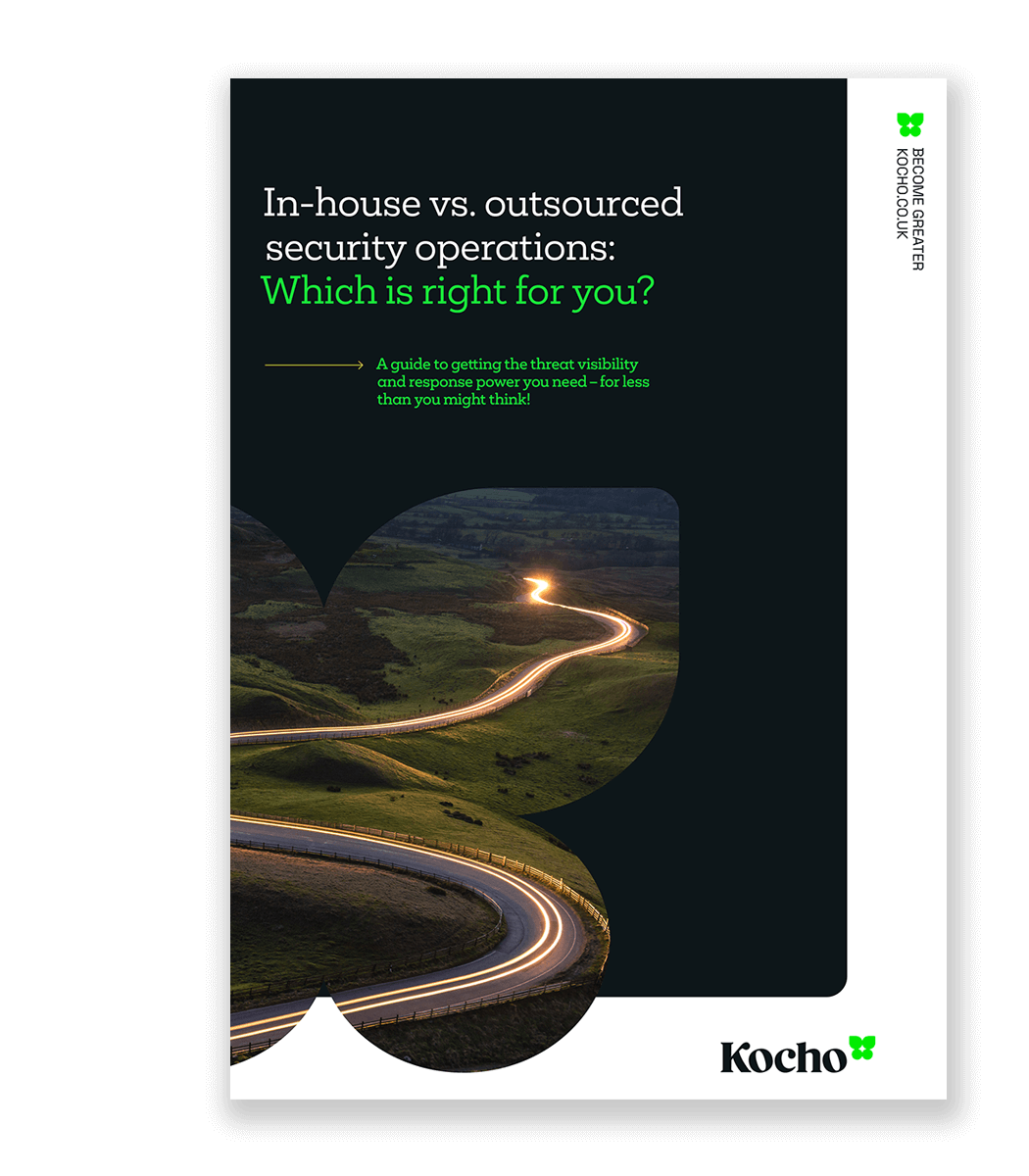 Free e-Guide
In-house vs. outsourced security operations: Which is right for you?
Download your 35-page guide to discover the:
Cost of building an in-house security operations centre
Hidden risks that could catch your business out
Security benefits and savings you could achieve
Next steps
Like this? Don't forget to share.
Great emails start here
Sign up for great content and exclusive invites
Subscribe to the Kocho mailing list if you want:
Demos of the latest Microsoft tech
Invites to exclusive events and webinars
Resources that make your job easier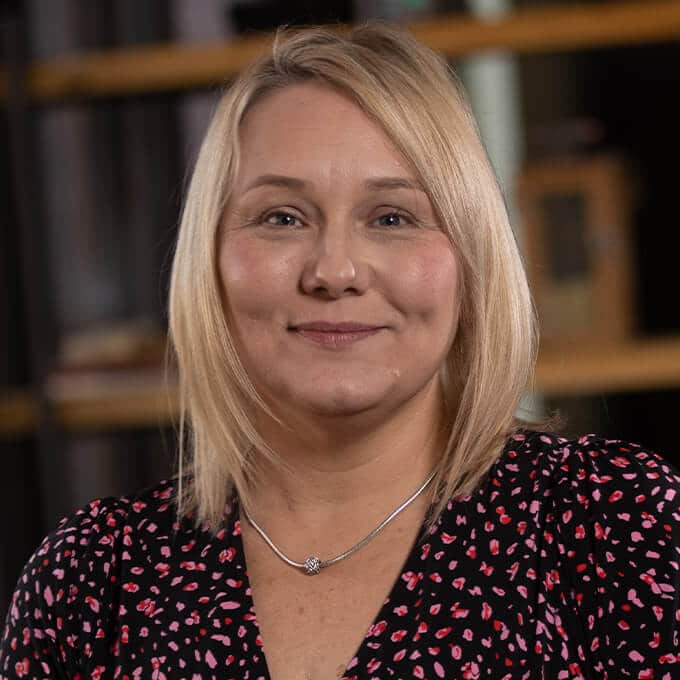 Author
Anna Webb
Anna Webb is Kocho's Head of Security Operations. Anna is a CISSP qualified security professional with over 20 years experience, and works tirelessly to ensure our clients have peace of mind.
Got a question? Need more information?
Our expert team can help you.