Azure Active Directory (AD) is Microsoft's flagship cloud-based identity management service.
Combining core directory services, advanced identity protection, and application access management, Azure AD delivers single sign-on (SSO) access to on-premises and cloud applications to keep your users productive.
Sitting at the heart of your IT environment, Azure AD takes your identity and access management (IAM) to the next level.
Quickly integrate IAM into your existing applications, simplify authentication management to ensure secure access from anywhere, and enhance security so you can respond to threats in real time.
Organisations that deploy Microsoft Azure AD benefit from a 123% return on investment.
Forrester, The Total Economic Impact™ of Securing Apps with Microsoft Azure Active Directory, 2020
Achieve productivity and security at scale
Enforce strong authentication policies that won't slow your users down. That way, the right people have the access they need while your sensitive data stays secure.
Azure AD helps you:
Streamline authentication processes and engage users outside your organisation while maintaining control over apps and data

Provide users with personalised, web-based access to thousands of cloud apps, wherever they're working from

Detect and mitigate breaches, leveraging machine learning, alerts and monitoring to respond to threats quickly and accurately

Use the flexibility of the Cloud to enable SSO access to the same apps and resources no matter if cloud-based or on-premises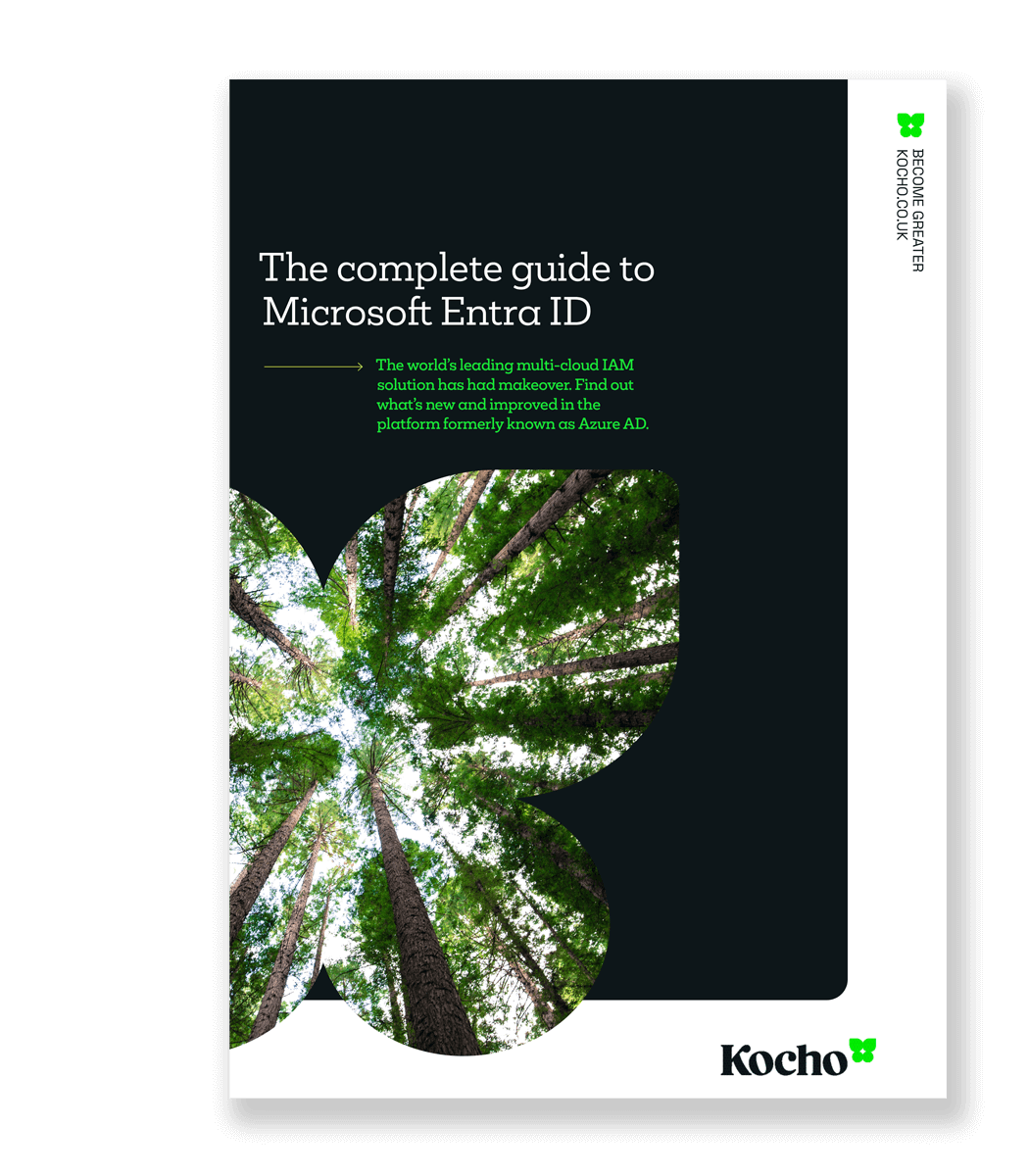 Free e-Guide
The Complete Guide to Microsoft Entra ID
Unlock the full power of the world's most popular multi-cloud identity and access management platform.
Download your 34-page guide and discover:
How organisations are achieving 123% ROI
How you can reduce data breaches by 45%
The tools to improve efficiency by 50%
The need for secure IAM is universal
No matter where they are in the world, your users – whether internal or external – need access to online resources to do their job. So having a way to streamline and manage that requirement in a way that makes your life easier is a necessity for today's digital-first workplace.
Disconnected identities
Users have multiple identities to access different apps and services.
Too many portals
Different IAM elements are handled in different locations, creating gaps in management.
Identity security
No visibility over potential malicious intent – until it's too late.
Manual processes
Your IT Support Desk spends too much time manually resetting passwords.
One complete solution for identity, security, and productivity
Adopting an open standards approach to IAM, Azure AD gives you powerful identity, security, and compliance capabilities across your entire environment – all controlled from a single place.
Great emails start here
Sign up for great content and exclusive invites
Subscribe to the Kocho mailing list if you want:
Demos of the latest Microsoft tech
Invites to exclusive events and webinars
Resources that make your job easier
Got a question? Need more information?
Our expert team can help you.