Breathe new life into your data analytics with Microsoft Power BI.
Good data is an essential ingredient to success for any organisation – but it's only as useful as what it can tell you.
Without a way to correlate, analyse, and coherently present insights, the value of your data will remain limited.
Thanks to Microsoft's Power BI, you can draw meaningful conclusions from your business intelligence via a combination of innovative analytics, machine learning, and reporting tools.
Microsoft Power BI is a recognised 'Leader' in augmented business intelligence.
The Forrester Wave: Augmented BI Platforms, Q3 2021
Power BI: Make strong, data-driven decisions at every level.
Microsoft Power BI enables you to generate unique insights and reports using hundreds of visualisation options, built in AI support, seamless Excel integration, and pre-built and custom data connectors.
Microsoft Power BI helps you:
Create highly visual interactive reports that can be easily shared throughout your organisation

Produce paginated reports in Power BI's Report Builder for easy reading or printing/pdf creation

Instil a data-driven culture by allowing every user to view analytics relevant to their role

Keep data secure through sensitivity labels, end-to-end encryption, and real-time access monitoring
Are day-to-day data troubles slowing you down?
Being able to draw on your business data at any time, from any device, has become a necessity for modern business. Without the ability to do so, productivity frequently stalls or suffers delays until users can access the data they need to effectively do their job.
Ease of access
Only certain colleagues can retrieve the data necessary to make decisions.
Old data
Reports are manually exported and saved down, quickly becoming out of date.
Time scarcity
Preparing reports and visually appealing presentations is slow and time consuming.
Measuring success
Proving performance is often a patchy, manual process prone to error.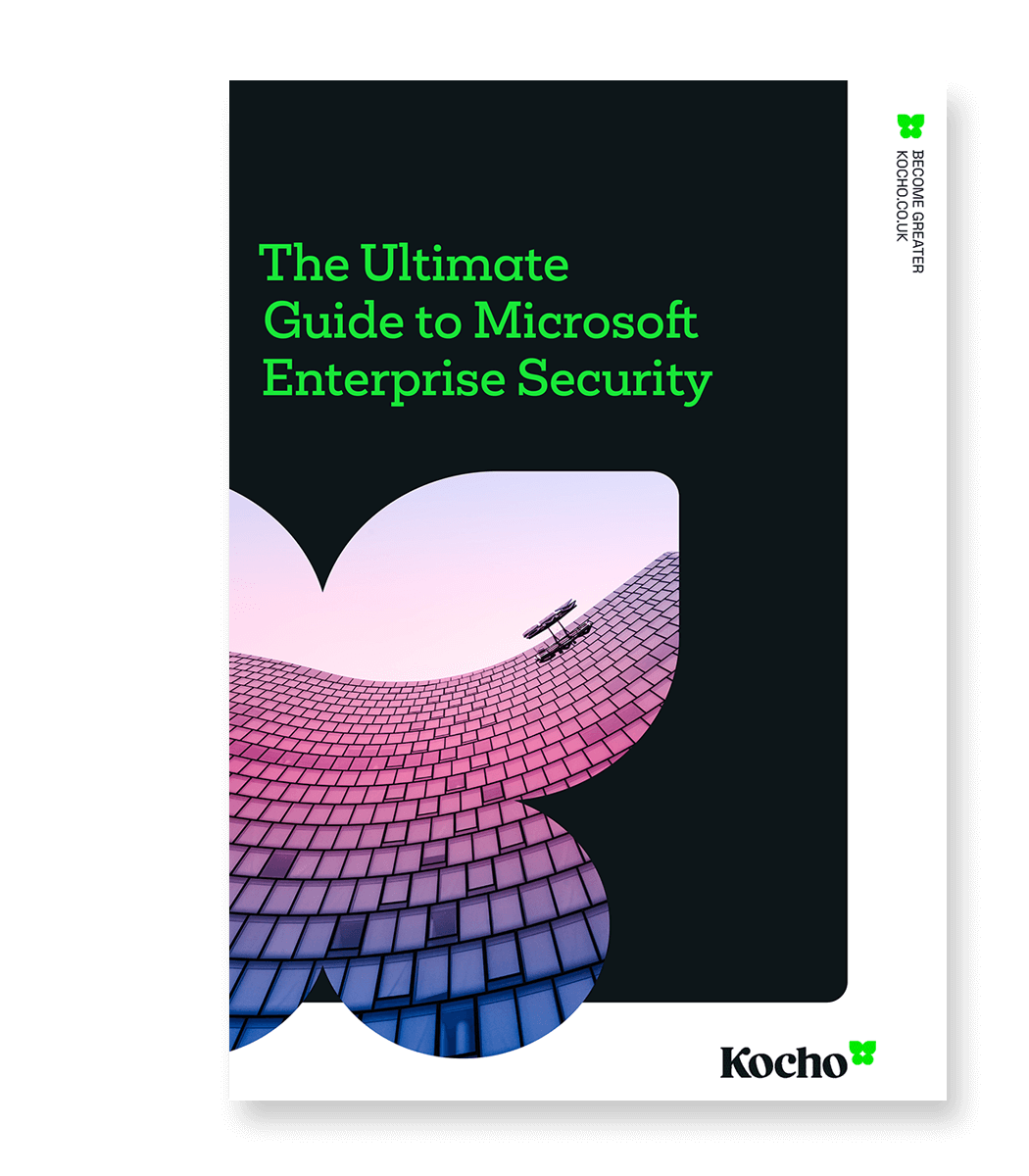 Grab your copy!
The ultimate guide to Microsoft Enterprise Security
Microsoft security simplified.
Download your 40-page guide today and understand:
Key Microsoft technologies, features, and benefits
How to slash your licensing costs by 60%
Tools to reduce threat response times by 88%
You've got the touch, you've got the Power (BI)
Microsoft Power BI ensures that your users are collaborating, sharing, and acting on up-to-the-minute insights to inform crucial business decisions.
Great emails start here
Sign up for great content and exclusive invites
Subscribe to the Kocho mailing list if you want:
Demos of the latest Microsoft tech
Invites to exclusive events and webinars
Resources that make your job easier
Got a question? Need more information?
Our expert team can help you.