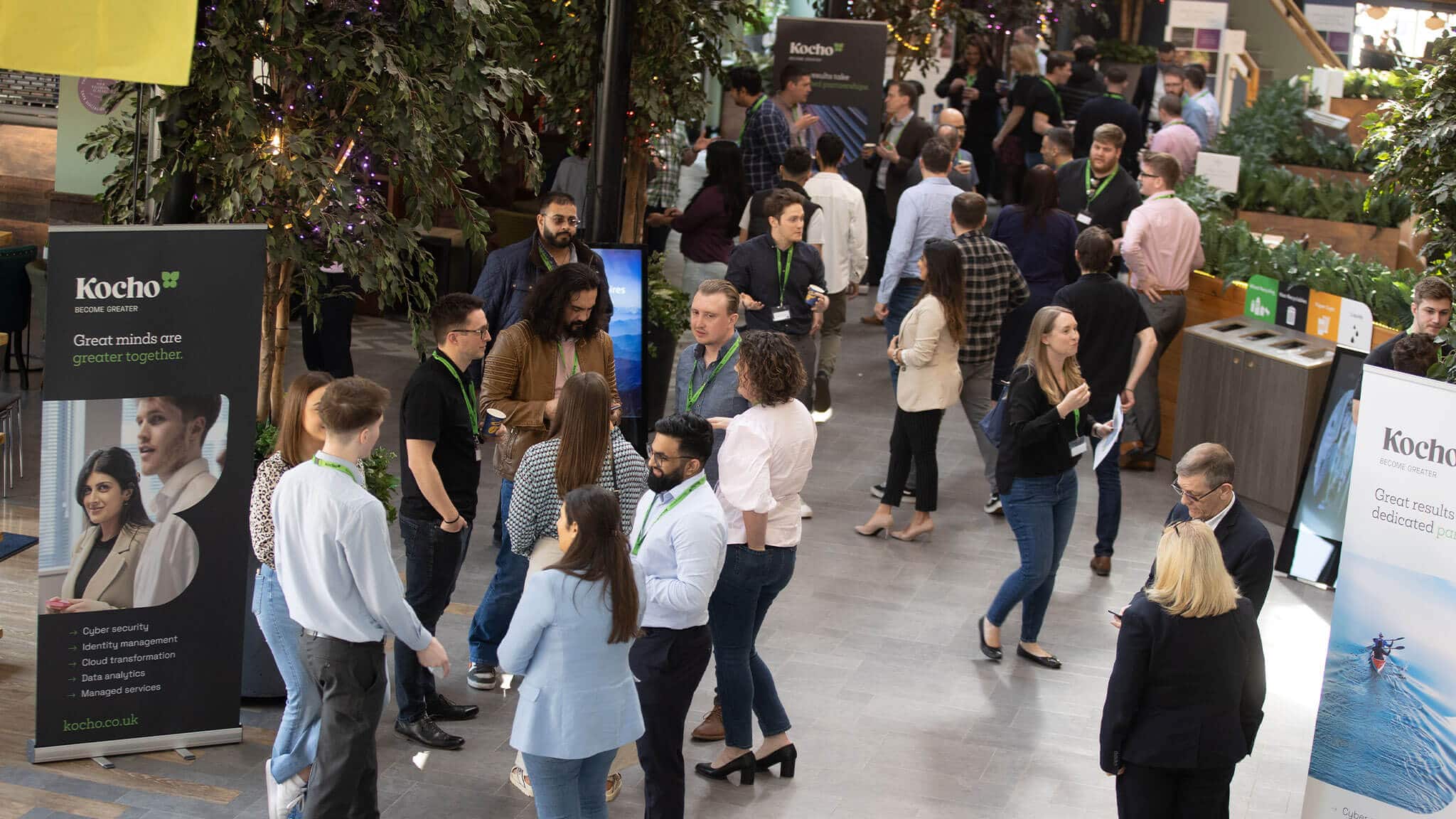 Tuesday, 10 October 2023
08:30   –   Registration and networking breakfast
---
09:30   –  Introduction and welcome from Kocho
---
09:40   –  Microsoft's future vision for identity and access
Rohit Gulati | Principal Product Manager, Microsoft Identity Engineering
Hear exclusive insight into Microsoft's Identity Roadmap, including the latest updates to Entra ID, Governance, and more.
---
10:20   –  Getting 'real' about AI security, and how it can protect your organisation
Anna Webb | Head of Security Operations, Kocho
No AI hype (we promise). Anna gives some real world insight into how AI is being used with Microsoft Sentinel and in Kocho's Managed Security Operations.
---
10:40   –  Coffee break
---
11:00  –  Is mobile/device security your Achilles Heel?
Andy Brown | Product Director, Kocho
Is your mobile device management a hidden chink in your armour? Andy will educate on the hidden threats and Microsoft's Unified Endpoint Management (UEM) Platform.
---
11:20   – Securing customer access for BT: The next chapter with Kocho
Hear how Kocho delivered a large scale secure transformation project at speed, for this enterprise organisation.
---
11:40   – 7 Steps to Building Your Zero Trust Security Strategy
David Guest | Senior Solution Architect and Tech Evangelist, Kocho
Dave breaks down the zero trust buzzword to tell you what you really need when securing access.
---
12:00   –   Lunch
---
13:00   –   Workshop Session 1
Sentinel and Defender XDR Demo
Explore how to leverage the full potential of Microsoft's AI-powered SIEM and SOAR solution, Sentinel, with the XDR power of Defender.
Delivering converged enterprise identity, governance and privileged access for your employees and beyond
How can you keep your organisation secure but your colleagues enabled? Join this session and learn how to deliver identity management and governance into your landscapes and meet your privileged access requirements.

Azure Active Directory B2C: The butterfly effect
We discuss how using Microsoft's Single Sign On product can improve your business presence in more ways than one – from frictionless user journeys to enhanced security, plus we'll share the latest in technology developments.
Protected remote working with Security Service Edge (SSE)
Get to grips with one of the newest members of the Microsoft Entra family, SSE. A solution which promises to transform secure access to networks and digital assets.
Phishing-resistant MFA with Yubico and Microsoft Entra
Phishing attacks are on the rise while passwordless remains only a buzzword for many organisations. Yubico's Principle Solution Engineer discusses the reality of going passwordless in today's attack landscape.
---
13:50   –   Short break
---
14:00   –   Workshop Session 2
Seamless user provisioning and JML, all in Microsoft Entra ID
Discover how to align your People and IT functions, by automating accounts and access with Microsoft Entra ID; which integrates ANY Human Capital Management or People Profile data source.
Planning your device management strategy
An overview of the device management, hybrid identity and data protection solutions available from Microsoft, and how best to implement them.
Multi-cloud security with Microsoft 365
Realise the advanced security and compliance capabilities available through Microsoft 365 plus how to protect multi-cloud and hybrid environments with the integrated security of Microsoft Defender for Cloud.
Beyond Awareness with Human Risk Management
Traditional compliance training is not geared to prevent new world attacks. With fraudulent AI and fast phishing on the rise, find out how to take a human centric approach and make security awareness more engaging.
Decentralised ID deep dive
Find out how Microsoft Entra Verified ID can help you confidently streamline your secure identity verification and reduce admin.

---
14:50   –   Coffee break
---
15:10   –  Workshop Session 3
Securing Devices – In-depth Intune demo
Unpack Microsoft Intune's key features and benefits which make it your one-stop solution to improve the hybrid work experience for users, whilst giving IT greater visibility and control of endpoints.

Moving Identity Management into The Cloud with Microsoft Entra
Seamless migration planning. Moving on-premises Microsoft Identity Manager workloads to the cloud with Microsoft Entra ID plus NEW governance capabilities.

"You now have 5 seconds to comply!" Tackle data security issues fast.
We discuss how to quickly improve your compliance posture by introducing key technologies from the Microsoft Purview suite – why they're important, and the best implementation approach.
Delivering cost-effective Security Operations
We look at the scalability and effectiveness of different Security Operation models designed to empower you to detect and respond to complex cyber threats.

AI's transformative role in networking
Discover how Juniper's AI driven network is uniquely reshaping the landscape of networking to optimise user experiences and simultaneously reduce cost and time expenditures for organisations like yours!
---
16:00   –   Short break
---
16:10   – Tackling the changing global threat landscape with Microsoft
Hope Chauland | Go To Market Manager, Security Business Group at Microsoft UK
Hope will show us how Microsoft's cloud security technologies are evolving to deal with modern threats, including advancements in SIEM, XDR and AI.
---
17:00   –   Networking drinks and entertainment